#LookoutFor | Kintsugi in printmaking by Made in Calcutta
The Japanese concept of Kintsugi usually finds relevance in the art of ceramic-making and pottery. Broken pots and bowls are joined back with a gloriously gold-coloured varnish, a colour usually associated with grandness and celebration—to make them useful again. The 'scars' on the face of the object are highlighted, celebrated, understood as necessary in its life cycle, and you don't discard your old cuppa as broken, but you learn to cherish its innate usefulness in your life.
The concept, romantic as it may seem and even if for mindful living, still engages with the 'usefulness' of an object. Amrita Saraogi, a social anthropologist based in Kolkata though, turns this bit of its message on its head. And her medium of choice to do so? Printmaking.
For starters, Amrita applied Kintsugi to prints that she creates— not broken ones that she fixes. More importantly though, her little rebellion is also of appropriating the philosophy to a form of art that's not necessarily considered as 'useful' as is a ceramic bowl.
**
Trained under master printmaker Ramen Kastha, at his Studio Gravura in Kolkata, Amrita is just beginning her Kintsugi series. The only print she's made in it so far, is one of the heart. Its biological 'usefulness' to our lives aside, the heart is an oft-broken, sentimental voice that tends to lose out over the rationality of the brain. "My idea is to use the physical aesthetics of Kintsugi in my prints to express the deeper, philosophical idea through different 'objects' that can be broken," she says.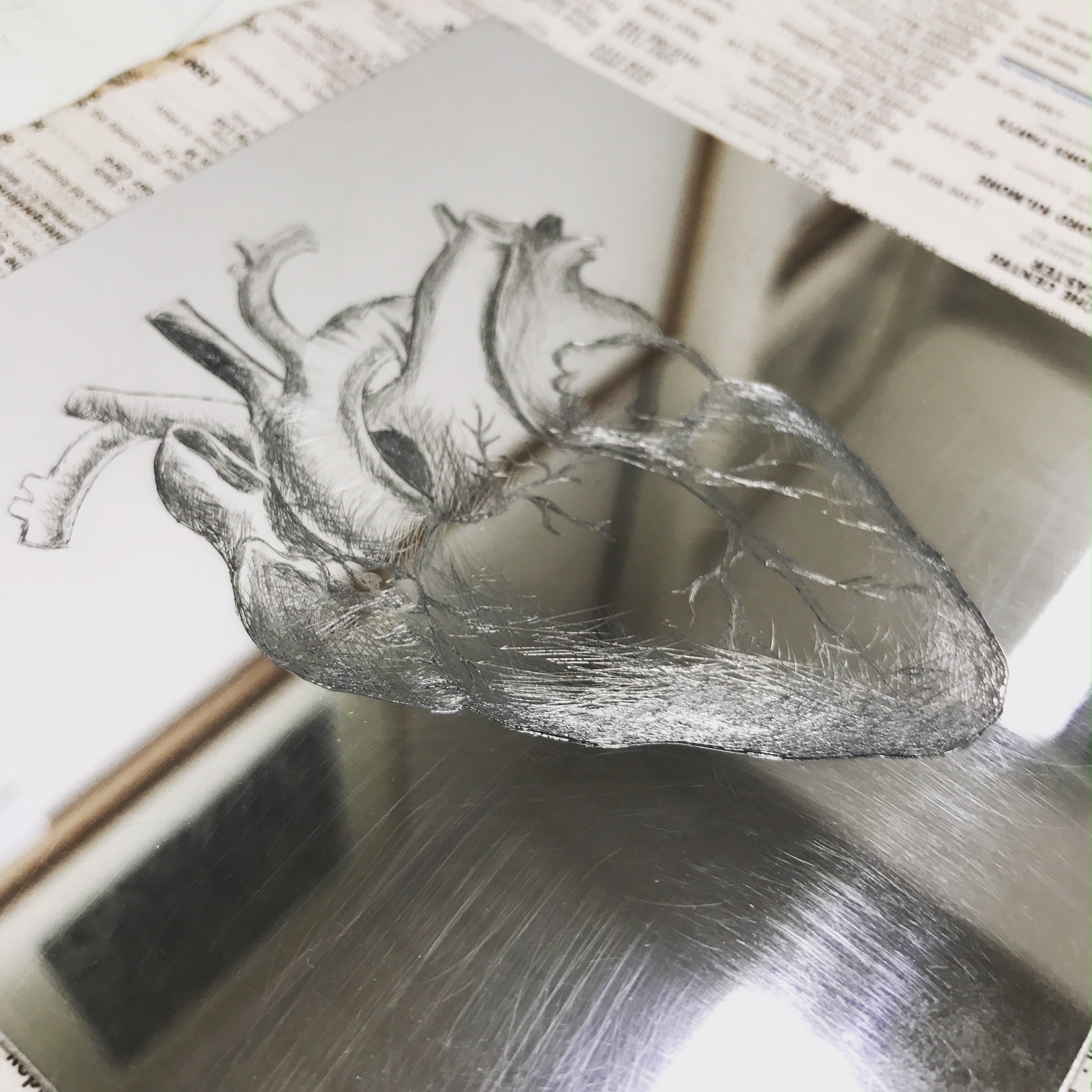 She's used a special method of screen-printing to make the gold-cracks on this drypoint print of the heart. In it, gold dust is sprinkled within seconds, on the screen-printed ink.
Taking off from the heart, Amrita is thinking of continuing this engagement with Kintsugi by applying it to different parts of the human body next. "I want to represent the feeling of being completely broken and shattered," she says.
The concept may sound simple, but is the result of sharp, critical thinking about its context and inspirations, coupled with the trained technical expertise needed to enable the printmaking process.
Scenes from Amrita's studio: